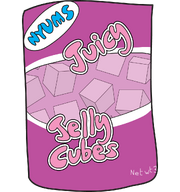 Juicy Jelly Cubes are a snack produced by NYUMS. They are marketed as "healthy" and can be highly addictive.
Description and flavors
Edit
Each jelly cube is about 1 cubic centimeter large. The package they come in has them floating in juice. 
Flavors:
lychee
mango
peach
grape
strawberry
coconut
Other references
Edit
Mirra has said before that if you were to chew the cubes slowly, they would be harder to chew than if you chew them quickly.